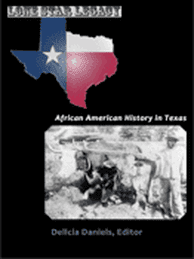 ​Lone Star Legacy: Poetry, Prose, and History
in Texas
Lone Star Legacy details the struggles, existence, and triumphs of trailblazing men and women who have contributed to African-American History throughout Texas.
​
---
Click on the Purchase from Amazon button above to purchase Electronic Issues.

​
Undergraduate at the University of Texas at Austin publishes class paper on slavery in Austin
Undergraduate Joanna Labor publishes her paper for Professor Daina Berry's spring class on Gender and Slavery in the U.S. in the premiere issue of the journal, Lone Star Legacy: African American History in Texas.

Click on the "University of Texas Article" button to view the University of Texas Article.
With the deed still in place today, the church must continue to hold 'church services every Sunday, rain or shine, hot or cold' in order to keep the land promised to them 144 years ago. Holding steady to this promise, St. John Missionary Baptist Church has kept their commitment to serve the community through ministry and outreach."

​ -Dr. Portia Hopkins
Excerpt from Vol. 2 Num. 2